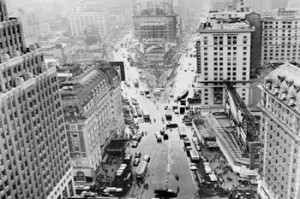 Founded in 1940 by father and son, FFGN celebrates is 80th anniversary as an established New York commercial debt collection firm. FFGN began as a law firm and collection agency. The firm was influential in setting the standard rates recognized today by the Commercial Law League.
Although many years have passed since our beginning, FFGN's commitment to clients' fiscal health remains our focus. We work as a legal agency collecting debt through demand, litigation, mediation, arbitration, and judgment enforcement.
FFGN is a certified Woman Owned Business located in Times Square at the heart of New York City.
Our client-base includes Fortune 500 as well as mid-size companies and we participate in many supplier diversity programs.
FFGN is an award winning firm, with our President, Jocelyn Ruth Nager, 2009 recipient of the National Minority Business Council, Dena Coye Entrepreneur of the Year Award, recipient of the National Association of Women Business Owners, Lifetime Achievement Award, 2010 and a finalist for "One of the Best Attorneys, 2011" by the New York Business Enterprise Report. Frank, Frank, Goldstein & Nager, P.C., is also a recent finalist of the International Credit Excellence Awards 2013 and a Bronze Stevie Award winner for Company of the Year in Business Services 2013.
At FFGN, our goal is to enforce your company's rights as creditor. Our team of diverse professionals has been getting clients paid for over 80 years, handling all phases of debt collection.