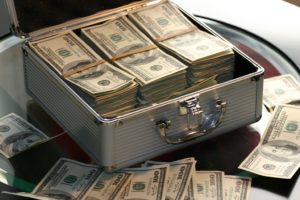 A law firm is like other businesses — some do well and others do not.
Some are better lawyers or more skilled business people, others are neither. At the end of the day, a private law firm is a business. And like a business can orchestrate a scam, some lawyers steal client funds.
Lawyers are sworn to adhere to a code of ethics. They swear to act in the best interest of their clients. Given the number of lawyers, the percentage of those that fail to uphold their duties is very small. One of the main reasons lawyers get disbarred is due to the improper use of client funds.
That is probably why the New York Code of Ethics provides strict rules for how lawyers handle client monies. These rules are codified in the Rules of Professional Conduct, which directly specify how to manage client monies.
The rules require the attorney to act as fiduciary. Lawyers must act ethically in their client's best interests and maintain client monies in a separate account, not combined with the attorney's personal or other business funds.
When Lawyers Steal Client Funds
Unlike other professions, your attorney has access to and is the custodian of your money. And, just as there are those who act without concern for others, some lawyers steal client funds.
Googling "lawyers who steal clients' funds" reveals pages of articles. Headlines include:
Unfortunately, clients are often unable to recoup their monies once stolen since the lawyer is disbarred and unable to pay full restitution.
That is why The Lawyers' Fund exists.
Getting Reimbursed Through The Lawyers' Fund
The Lawyers' Fund reimburses people who lost money or property as a result of wrongdoing by an attorney. The 278,000 members of the legal profession in New York State finance the fund through a registration fee required by law. It is not funded by tax dollars.
The fund is available to any victims unable to obtain reimbursement from their lawyer, the lawyer's insurance, or any other source.
Since 1982, upwards of $132 million in awards of reimbursement have been paid to deserving clients.
Claims must be submitted within two years from the discovery of the theft and can be paid up to a maximum of $400,000 for each client loss.
If a check drawn on the trust account returns unpaid or an attorney overdraws on the trust account, the disciplinary committee gets a probable signal of wrongdoing. This triggers an investigation into the attorney, beginning with their banking practices and handling of client funds.
Before engaging an attorney, one should check to see if they are in good standing and confirm the status of their license to practice law.
Each state maintains it's own database which is available to the public. The New York court's website maintains an up to date database as does the U.S. Department of Justice.
Make sure you fully investigate the lawyer and law firm that you choose to represent your interests. To work with a firm you can trust, contact FFGN.