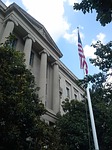 The aim in a New York Commercial Debt Collection Case is to get paid. If not settled or paid after serving the summons and complaint, the goal is to obtain judgment.
Preparation for judgment in a New York Commercial Debt Collection begins with the goal in mind with drafting the summons and complaint.  The complaint must request a specific dollar amount from the non-paying customer. If the complaint does not seek a specific amount, that can be documented, the Clerk can not enter judgment without a Judge's Order.
Your best chance of collecting is by moving the case along as quickly as possible.  Since speed is of the essence to maximize the likelihood of payment you want to make sure that you can obtain judgment without delay. Submitting a judgment, especially a default judgment, in a commercial debt collection case that will be approved by a Court Clerk in New York State requires experience and know-how.  It is not sufficient to prepare the judgment statement and hope for the best.
A  Supreme Court Judgment Clerk will require documentation evidencing the debt.   A statement of account, supporting invoices, copies of pertinent contracts or underlying agreements and sometimes more are required to substantiate  the "sum certain", the amount sought in the summons and complaint.
More specifically documents that may be required to be submitted to the Clerk can include: a proposed Judgment, an Affidavit of Facts , a Certificate of Conformity  (if the client is located outside of New York State), an Attorney Certification, documentation evidencing the claim,  a non-military Affidavit (if judgment is sought against a natural person), Affirmation of Additional Mailing, Proof of Service if not previously filed.
If the complaint in your New York Commercial Debt Collection case did not demand  a sum certain or, if the Clerk did not find evidence that the debt is justified based upon  the documents submitted or, if you are requesting attorneys fees, the Clerk will NOT enter the judgment.  You will be required to make a motion requesting a Court Order to direct the Clerk to enter judgment further delaying the entry of judgment.
Whether the Clerk enters judgment with or without Order of the Court, a judgment is a judgment.  Once entered, execution judgment enforcement may begin immediately. Unless satisfied or vacated, a judgment in a New York Commercial Debt Collection case is valid for a period of twenty (20) years.