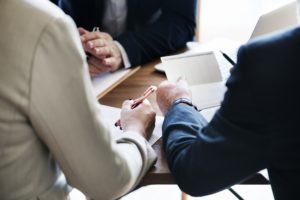 Business owners might think if the work done by an independent contractor or vendor was insufficient, they can issue a stop payment order on the check with their bank as a solution.
While business owners may think issuing a stop payment only hurts the contractor, third-parties may also suffer unintended consequences. When impacted, third parties may seek restitution against the contractor as well as the business owner.
How a Stop Payment Can Hurt Third-Parties
Let's say, for example, a company owner hires a contractor to perform repair work. When the project ends, the owner does a cursory inspection and issues a check for $1,500, the amount owed. However, after the contractor leaves, closer inspection reveals the work is unsatisfactory. The owner decides to place a stop payment on the check.
Usually, the contractor takes the check to their financial institution, which deposits the check into the contractor's bank account. Once the contractor's bank receives notice of the stop payment, that payment is debited out.
The owner may then expect the contractor to file suit against them for unpaid work.
But what the owner may not realize is that if the contractor deposits the $1,500 check with a check casher, less their fee — when the stop order goes through, the business owner's bank debits $1,500 from the check casher.
Now the check casher wants the matter resolved. Under the law, the person who issued the check remains liable for it.
How Third-Parties Can Seek Relief
Under the Uniform Commercial Code, which governs negotiable instruments in New York, the check casher is considered a "holder in due course." That is when someone handles a negotiable instrument, such as a check for processing.
The check casher, in this case, is a "holder in due course" because they took the check and provided cash, less their fee, in good faith, and had no notice of the stop payment.
The Uniform Commercial Code says that when a payee — the contractor in this case — asks a holder in due course — the check casher —  to negotiate the check to cash, the casher is immune from any claims made against either party. That means a check casher can sue the owner who wrote the check, but the business owner cannot use the contractor's shoddy work as a defense.
The check casher can also seek a remedy from the contractor because they received cash for a check that bounced. The check casher can bring both the owner and the contractor into the same suit.
Company owners who issue stop payment orders on checks must remember that third-parties can suffer as a result and seek damages from the owner.
If you have a debt collection matter in need of resolution, reach out to FFGN for a consult. We have the experience that pays.