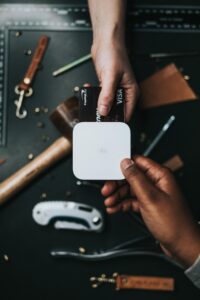 Credit card processors often offer loans to businesses that accept credit cards. While these loans may have seemingly inviting agreements, there are some terms that offer the credit card processor speedier debt collection relief against you.
Here are a few things you may want to consider before agreeing to the terms of the loan.
Default
With most loans, failure to pay as required by the underlying agreement or failure to maintain a minimum balance constitutes a default in the loan agreement. Loans from a credit card processor work differently. There are many ways to default under the terms of the lending agreement:
A predetermined percentage drop in total sales
A predetermined percentage drop in settlement amount
Failure to process any charges through the processor during a fixed number of days
Use of another credit card processor
Worries from the credit card processor and/or their lender that they won't be repaid
The laundry list of situations that constitute a default makes it far easier for a buyer to "default," which enables the lender to accelerate payment, penalties, and the like.
Continue reading "What You Should Know Before Taking a Loan From Your Credit Card Processor" →
Read more...