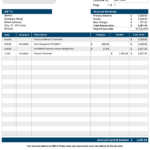 There are actions you can take that are not only good business practice but can also help you to succeed in New York debt collection. One of those best business practices? Send a proper statement of account to customers.
All accounting and bookkeeping software can produce a customer's statement of account, but not everyone uses it to their advantage. Is it your practice to send statements of account?
Continue reading "Another Road to Successful NY Debt Collection: Send a Statement of Account" →
Read more...