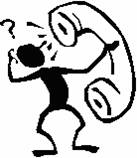 A few months ago we learned our managing partner's name and firm name were being used without permission by unsavory debt collectors. Our identity was being used to extort money from consumers. Harassing letters referencing fake Court dates, threats of incarceration and confiscation of personal property were being sent by email by the thieves. Notice was sent to the public alerting them to the scam.
Reports were made to the New York Police Department, Attorney General, FBI and Federal Trade Commission (FTC). We have received word of harassing phone calls and texts made to consumers. The letters, calls and texts are in clear violation of the Fair Debt Collection Practices Act (FDCPA). The communications are not from this firm. Our firm would never threaten or harass consumers. All parties are treated with respect and all communication from our office is in strict compliance with the FDCPA.
If you receive any communications that are suspect PLEASE contact your local police precinct, the FTC and FBI immediately.