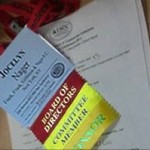 As a board member of IACC, I attended the July conference in San Diego, CA. Numerous presentations are held discussing commercial debt collection. 'Hot Topics in the Commercial Collection Industry' is always my favorite presentation at the conference. Collection agency owners and collection attorneys are able to openly discuss our successes and our challenges.
Collection agency and attorney concerns mirror those of our clients:
maintaining and attracting talent,
Court backup and delay,
the applicability of the FDCPA on the collection of commercial accounts,
legal holds and e-discovery,
meeting and exceeding client expectations, and
State licensing requirements.
These are just a few that hit home for me. If you have questions about any of these topics, IACC, or placing claims please call this New York City commercial debt collections attorney at (212) 686-0100 or email jnager@ffgnesqs.com.
Jocelyn Nager