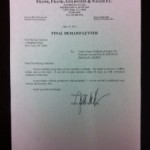 A final demand letter is a mere formality in most NYC debt collection litigation. Generally, it is not required except when relying on a contract, promissory note or other documents which specifically states notice of default must be given.
If not required, why would you send a final demand? In some instances creditors want to put the debtor on notice that they are turning the account over for collection. Some send the notice as a last ditch effort to get paid and/or alert the debtor that they will be responsible for additional interest and attorney's fees (as provided for in the underlying agreement).
You decide to send the final demand. Here are a few tips to keep in mind:
make sure to keep the letter brief,
state the names of the parties, the amount of the debt, any additional charges/fees and the next action you will take (provided you do not receive a response by a specified date),
make sure to keep personal emotions and details regarding the transaction out of the letter
The objective is to elicit a response to encourage the customer to contact you by remaining professional and thoughtful. If you have already sent a final demand, do not send a second or third demand for payment. Final means final.
You decide not to send a final demand letter. Rest assured that unless you have a written obligation to send a letter, the individual invoices addressed to the debtor will suffice for most New York City debt collection litigation. We recommend sending a statement of account indicating the total outstanding balance due. The non-paying debtor's failure to object to the statement enables you to add another cause of relief to your civil case, "Account Stated".
For help composing a demand letter or for questions regarding invoicing and claims, please call us at (212) 686-0100 or email jnager@ffgnesqs.com.