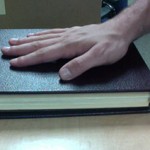 If you pursue New York debt collection litigation will you have to appear in Court? Creditors are sometimes hesitant to file suit against non-paying customers because they are concerned they will need to spend days testifying in Court. Live testimony is not always necessary to win your case.
Often the creditor can win the case on "papers" rather than live testimony. You may not need to go to trial if:
the facts are not in dispute, or,
the creditor's attorneys can show the Court that the defense is without merit
The Court will not issue a decision in your favor without a trial if there are facts to support both sides; this is called "triable issues of facts." In this situation, you will most likely need to testify; however, the parties may agree to take deposition by telephone, video-conferencing or other remote electronic means.
Creditors should not be intimidated or hesitant by a possibility of having to testify to pursue their debt collection litigation case. Many of the debt collection cases we have handled over the past 25 years either settle or are won on "papers" prior to trial. In those cases, creditors have not needed to appear in Court to win their case. For further information or to discuss your case, please call (212) 686-0100 or email jnager@ffgnesqs.com.