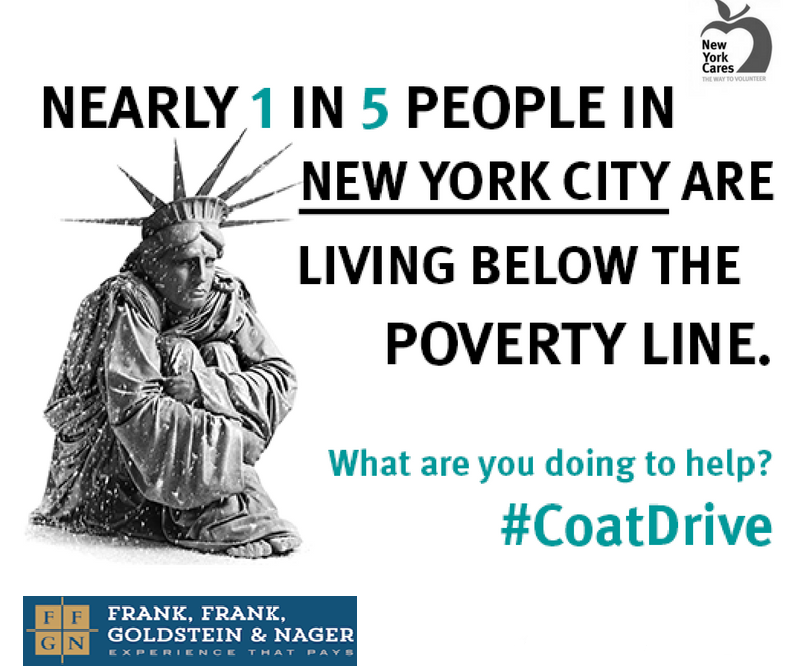 Frank, Frank Goldstein & Nager, NY Debt Collection Law firm joins with Adler Windows for a second year and others to keep New Yorkers warm.
Through December 21, 2017, we are collecting warm coats, both old and new at our office located at 330 West 38th Street, Suite 701, New York, New York 10018.
Imagine having no respite from the cold and no hope of getting warm anytime soon – that is the reality for many New Yorkers every winter. Join NY Cares Coat Drive.
Last year Adler and their partners raised 1,000 coats and this year they're on a mission to break that record. Give a coat, share the warmth!
Help keep NYC warm by donating your old clean coats today at our office. Drop off at Frank, Frank, Goldstein & Nager, P.C., 330 West 38th Street, Suite 701, New York, NY 10018. For more information call 212-686-0100 or visit us online at www.ffgnesqs.com.
If you would like to partner with NY Cares, Adler Windows and FFG&N, let us know.  Adler Windows will drop off a collection box to you. If you cannot donate a coat, please consider donating directly to New York Cares.  New York Cares is a non-profit organization that has infused volunteerism with business acumen to enable anyone who volunteers through our programs to have a disproportionate impact on New York City.