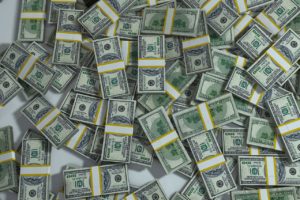 Thinking of using your business line of credit to get you through the next month or two of the coronavirus shutdown? Here are some things for you to consider.
Banks generally look for cash-rich businesses, especially in an economic downturn. That is not to say loans are not available. However, the line of credit you thought was available might not be.
A business line of credit is dIscretionary, not obligatory. Unlike a traditional loan, the loan is not secured and the borrower pays interest only on what they draw.
Business Lines of Credit During the Coronavirus Outbreak
Lines of credit are very rarely first offered during tough economic conditions. Most often businesses establish a line of credit when they first establish a relationship with their lender.
Lines of credit are generally tied to monies on deposit with financial institutions. The banks regularly check the business' credit and monitor its available deposits and history. Generally, the availability to draw on a credit line declines as the amount on deposit with a bank and credit decreases.
Traditional business lines of credit are unsecured short-term loans to businesses to help the business manage cash flow. Lines of credits are usually established with personal guarantees by one or more officers of the business.
Getting a Line of Credit
Some lines of credit are granted without the lender securing a personal guarantee. But beware, you may be asked to execute a personal guarantee before the bank will allow you to draw. That is because during difficult economic times, banks go on the "defensive."
Lenders do their best to preserve their client base but must also manage risk. Traditional lenders are generally not looking to extend additional credit to their current client base and generally do not look for new clients.
Does this mean that if you have a credit line you may not be able to borrow against it?
The answer is yes, it is possible.
Generally, a business line of credit is unsecured, uncollateralized. In some situations when it seems too risky for the bank to allow you to use your line of credit, the bank may ask to convert the traditionally unsecured short loan into a secured lending agreement. This is done by giving the bank a lien on all assets. Your ability to borrow will be tied to the type of collateral you have to offer as security. Receivables, inventory, real estate holdings are all considered as collateral.
For more information about the options available to you during this tough economic time, contact Frank, Frank, Goldstein & Nager for a consultation.