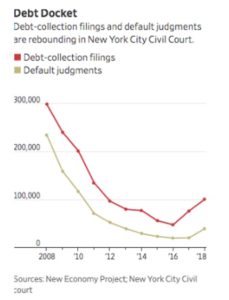 If you are counting on the fact your debtor won't show and you will win your New York Debt collection case on a default judgment, don't. The number of default judgments awarded in New York debt collection cases is declining.
Based on statistics reported in the Wall Street Journal, the number of New York City debt filings has more than doubled based on figures reported in 2018. The last time filings were this high was 2012. While the number of debt collection suits are increasing, the number of default judgments are not rising in proportion. Bottom line, more New York debt collection filings are being defended.
You need to think ahead and make sure you are represented by competent counsel. You should not expect to win your debt collection case by default because the debtor does not show up to contest the case. An attorney who understands the nuances of debt collection will be able to bring the disputed case to judgment.
Continue reading "Don't Count on a Default Judgment to Win Your Debt Collection Case" →
Read more...