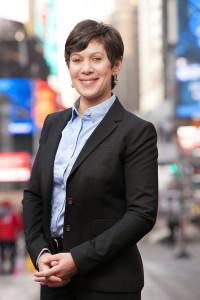 In this post, Jocelyn Nager, the President of Frank, Frank, Goldstein & Nager, shares how she became a debt collection lawyer. 
Before online job listings, one of the best ways to land a position was by way of introduction or responding to classified ads in person or by mail.
I worked for law firms during the second and third year of law school. My first year I sold shoes at Botticelli, a high-end shoe store in Rockefeller Center.
Coming from a family of accountants and educators, introductions to potential law firms were hard to come by. To find a job, I used the classifieds in the law journal.
I prepared personalized cover letters for each resume I sent out. I'd drop off the "envelopes" every Sunday evening to be in the first batch of resumes — each addressed to a separate blind ad at the offices of The New York Law Journal on Ninth Avenue.
I didn't know what type of law I wanted to practice. I just knew I wanted to work, and quickly! Since I was eager and ambitious, I answered almost every ad posted for an entry-level position.
Starting a Career in Debt Collection Law
My first official position after passing the bar and being admitted was as a commercial litigation associate. I thought "wow, I could do that." And so I did.
I went to court every morning to argue motions, file papers, submit judgments, and attend pre-trial conferences. In the afternoon, together with another associate — there were four of us — we would prepare summons and complaints, draft the motion papers, and prepare cases for trial and handle discovery. The position was at a collection firm. The work was fun because there was so much of it. I handled almost everything.
So naturally, when I applied for my next position — also through the law journal — for another commercial firm, I shouldn't have been surprised the position was for a collection attorney.
After an interview with the outgoing associate and what I thought were two middle-aged men at the time — though, now I would beg to differ — I began working at Frank, Frank as their new associate.
At the time, the firm was Frank, Frank, Berger and Goldstein. Ira Berger retired within a few years. I worked with Arnold Goldstein for many more.
In 1995, I became a partner. Not bad for a girl from Queens.
(Thank you to my mom, a single parent who always had three jobs, and my grandfather. Both instilled in me a great work ethic.)
Within a few years, Arnold moved to Texas and became the "young" associate at a firm in Beaumont Texas. I became managing attorney of NY's oldest commercial collection firm — Frank, Frank, Goldstein & Nager.
To learn more about our firm or place a claim, contact us for a consultation.
Jocelyn Nager, Esq. is a debt collection lawyer practicing in New York. She is the President and driving force behind Frank, Frank, Goldstein & Nager, and an industry leader in the field of debt collection and commercial litigation. Jocelyn has been with the firm for over 20 years. Founded in 1940, and AV Rated by Martindale Hubbell, FFGN is the oldest collections counsel in New York State.