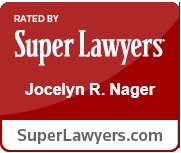 NEW YORK — September 28, 2017 — For the second consecutive year, Frank Frank Goldstein & Nager, a New York Debt Collection Law Firm and an industry leader in commercial debt collection, was named as one of the top rated Creditor Rights Lawyers in New York City for the 2017 New York Metro Super Lawyer list.
We have received this honor due in part to the positive case outcomes and supportive reviews. "Our focus is solely on making our clients whole through effective debt collection education and representation," said Jocelyn Nager, President of Frank Frank Goldstein & Nager. "We are pleased to have been awarded this honor once again and therefore would like to thank our clients and peers for their support."
Super Lawyers is a rating service that consists of outstanding lawyers from more than 70 practice areas. Each lawyer has attained a high-degree of peer recognition and professional achievement. The patented selection process used includes independent research, peer nominations and evaluations.
About Frank Frank Goldstein & Nager – Creditor Rights Lawyers
FFGN has been recognized for their work and participation in professional organizations. You can learn more about our recognition and our work in the About Us section of this website. Just some of the awards we have received are:
Winner of New York Smart CEO-ESQ Award, 2015

Finalist Credit Excellence Awards 2013

Named Entrepreneur of 2009, National Minority Business Council

FFGN is a certified woman owned firm. We are devoted to the prevention and collection of bad debt. For more information about our services contact Jocelyn directly at jnager@ffgnesqs.com or call 212-686-0100.