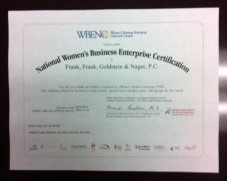 Although Frank, Frank, Goldstein & Nager is one of two certified women owned New York commercial debt collection law firms, it is the only certified woman owned (WBE) law firm in New York devoted exclusively to the collection of bad debt and commercial litigation.
Since 1940, FFGN devotes 100% of our time and energy into collecting bad debt.  We know the business of turning bad debt into cash and have the experience that pays.
Our success at increasing client's rate of collections on bad debt is based upon our philosophy that collections is not 'one size fits all.'
Our status as a WBE NY commercial debt collection firm is a plus for our many client's with supplier diversity goals.