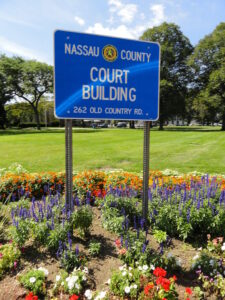 Interested in entering a judgment to get closer to collecting in your New York debt collection case? If so, and you sued in Supreme Court, Nassau County, you will want to know about an extra requirement to obtain a default judgment in your debt collection case.
As we wrote in a previous post, New York's unified court system is not exactly unified. Counties may have additional requirements especially when it comes to entering a default judgment. Nassau county has jumped on the bandwagon with requirements that afford commercial and consumers additional protection regardless of whether they were directly affected by the pandemic.
Usually, if a judgment creditor sues for a liquidated sum, upon presentation of proper evidence and carefully prepared papers referred to as a judgment roll, the clerk can enter a judgment without direction from a judge.
That is, until now. An administrative order issued by Hon. Norman St. George, administrative judge of Nassau county, declared that default judgments should not be granted in Nassau county courts if the default occurred after March 16, 2020.
A judge in a case may, however, grant a default where, after inquiry, three elements have been met.
 The debtors in default received notice of the action. For this element, the court will inquire as to how the debtors were served and if the creditor's attorney sent the additional notices to the debtors as required by the New York Civil Practice Law and Rules.
The reason the party failed to appear or answer in the action is not due to the pandemic. This one may prove to be a bit tricky. How does one prove a debtor's failure to appear or answer was not due to the pandemic? Perhaps confirmation that the debtor's residence is unchanged? Or, an additional notice of the summons and complaint served mailed to the debtor's residence by certified mail, return receipt, or a call to the debtor?
There isn't a statute or executive or administrative order that would prohibit the entry of a default judgment against the debtor. The creditor's counsel should include an affirmation, to this effect as part of the application for a default judgment
If you want to enter a default judgment against a party that defaulted in a Nassau County Supreme Court debt collection case and the debtor's default in appearance occurred after March 16, 2020, you will need to make a motion for a court order directing the entry of a default judgment to comply with Judge St. George's Order. Nassau judges are scheduling hearings to make determinations as to whether the defendants received notice of the motion and whether or not the default was due to the pandemic.
If you plan on suing in any of the New York courts, it's best to have an experienced collection attorney who regularly practices and knows the requirements of the individual 62 counties. For a free consultation, contact Frank, Frank, Goldstein and Nager. We have the experience that pays.