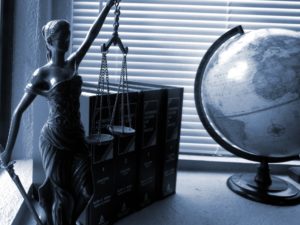 The manner in which you execute an affidavit to support your debt collection case will impact whether the court admits it as evidence. Here are some tips to ensure you properly execute an affidavit to support your New York debt collection case.
New York creditors who sign affidavits before a notary fulfill all the requirements for the affidavit to be considered as testimony. In the court system, if the notary is a New York notary the court will accept the affidavit without needing further documentation.
But if someone wants to submit an affidavit notarized outside New York, it can get complicated.
Other states and foreign countries have different notarial procedures than New York. Because of that, New York courts require a notarized signature executed outside New York to come with a Certificate of Conformity.
For creditors executing an affidavit outside of New York or the United States, the Certificate of Conformity tells the court the person notarizing the affidavit conformed to the laws of that jurisdiction. An affidavit signed and notarized in New Jersey, for instance, must be accompanied by a Certificate of Conformity signed by a New Jersey attorney, stating that both the affidavit and the notary conformed to the laws of New Jersey.
How to Execute an Affidavit Abroad
Further complications can arise when having an affidavit executed and acknowledged outside the United States. Affidavits notarized in a different language must be both accompanied by a certificate of conformity, as well as a certified translation of the affidavit and notary into English.
That can be burdensome for a person just looking to submit a signed affidavit to court.
A solution for people executing affidavits abroad is to sign by apostille pursuant to the Hague Convention of 1961. The Hague Convention was passed by countries to abolish the requirement of diplomatic legalization for foreign public documents. An apostille is sufficient to certify a document's validity and removes the need for double-certification by the originating country and then by the receiving country. Some 117 countries participate in the Hague Convention.
In order to avoid any issues with a foreign notary, and to make sure that the affidavit will be considered by the court as testimony in support of their New York debt collection case, a person in a foreign country can walk into a U.S. mission overseas and sign the affidavit by apostille. New York accepts the apostille certification stamp as valid authentication. Similarly, an individual can go to any overseas consulate or embassy of a participating member of the convention to have the document executed by apostille, which will also be accepted in New York.
Apostille certifications are considered valid certifications by the courts pursuant to the Hague Convention. However  New York courts will still  an accompanying  certificate of conformity.
Apostille certifications together with an accompanying certificate of conformity ensure foreign creditors will have their testimony considered by the New York Court presiding over their case.
To learn more about collecting a debt in New York, reach out to Frank, Frank, Goldstein, and Nager for a consultation.