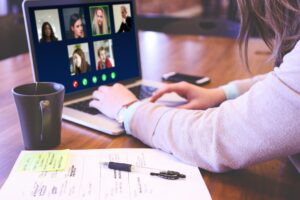 Wondering what to wear to your virtual court appearance? It seems some people might have forgotten what counts as appropriate court attire, prompting New York courts to remind defendants — and all court participants — to dress and act appropriately during virtual court appearances and hearings.
"The COVID-19 pandemic has required all courts across New York State to innovate and adapt in order to continue to provide the effective and efficient administration of justice and access to justice for all court users," says a memorandum sent out on March 18.
As a result of the pandemic, courts across the state use Microsoft Teams to hold court sessions virtually. However, as the memorandum points out, despite being virtual, "appropriate decorum/etiquette is a necessity" while courts are in session. Court participants should dress in appropriate attire and display an appropriate and professional background, "as if you were appearing in-person in court."
After all, a virtual court hearing is still a court of law and the rules apply.
The memorandum also says that participants are not allowed to eat food or consume drinks during proceedings and should "remain dignified." And, even though the transition to virtual platforms has been challenging for some, only one person should be speaking at a time.
This applies not only to defendants, but also to judges, attorneys, and court staff, the memorandum says.
The memorandum did not specify any particular incident as being the reason for the reminder, but news reports are packed with stories about inappropriate and sometimes dumbfounding behavior during court proceedings. In February, a Michigan judge told a defendant to "go put some clothes on" after he appeared in virtual court without wearing a shirt.
"Occasionally, I have to tell people to dress appropriately for court, but I've never had to tell anyone to get dressed for court," the judge said.
For more court and debt collection best practices, subscribe to our blog.