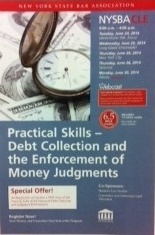 Jocelyn Nager, Esq., President of Frank, Frank, Goldstein & Nager, P.C. a certified WBE company, Highly Commended by CCR (Credit Collections & Risk) at the Credit Excellence Awards in 2013, has been chosen to speak about practical and procedural aspects of judgment enforcement. She will be speaking at the New York State Bar Association CLE Program in Westchester on June 24, 2014.
Jocelyn has extensive experience in the debt collection industry. FFGN, exclusively devoted to debt collection, deals with enforcing domestic and foreign judgments in New York State.
The primary purpose of the New York State Bar Association is to be a resource for attorneys in New York State.
Jocelyn Nager furthered her career 20 years ago at the firm as an associate. Today, as leader of a rapidly growing law firm devoted to debt collection, serving both major corporations and premier legal and accounting firms, and mother of two young children, she exemplifies the role of a leader and woman entrepreneur.
Along with her responsibilities of managing and growing her firm and raising two children, she also fulfills her personal commitment to helping others with her work on a steering committee at WPEO (Women Presidents' Educational Organization), as an active member of The Harpur Law Council, Treasurer/Secretary of EANYC (Executives' Association of New York City) and currently serves on the education committee of the IACC (International Association of Commercial Collectors).