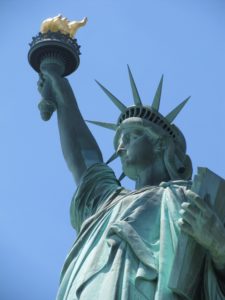 New Jersey and New York can be – with no traffic – a mere 5 minutes apart via the George Washington Bridge. It's about the same through the Lincoln or Holland Tunnel. Aside from their closeness as Hudson River neighbors, New York and New Jersey are far apart on their approach to debt collection.
Many companies dealing with customers in the Tri-state area might not realize the differences between these two states and how it will affect their debt collection efforts. In light of that, let's look at a few examples.
NY/NJ Legal Rates of Interest
When pursuing nonpaying customers through litigation, the creditor can request interest on the unpaid balances. Every state has developed a legal rate of interest. If your agreement does not provide for the rate of interest charged on unpaid balances or if you do not have a written agreement, you would defer to the state's rate.
New York will allow a creditor to demand legal interest at the rate of 9% per year. On the other hand, the legal rate of interest in New Jersey is only .50%.
Post-Judgment Interest on Debt Collection
Even though you have entered a judgment against a customer, you are still entitled to collect interest on the unpaid amounts.
Interest continues to accrue on an unsatisfied judgment. In New York, the accrual rate is 9% per year. Post-judgment interest accrues on a New Jersey judgment at .50% per year on judgments less than $15,000. For judgments in excess of $15,000, the rate increases but only to 2.50%.
Enforcement of Judgments From Other States
New Jersey will recognize and give "full faith and credit" to default judgments entered in other states. Creditors can take their non-New Jersey state judgments and domesticate them in New Jersey by taking some simple steps.
The opposite is true in New York. New York will not recognize out-of-state default judgments. To enforce an out-of-state default judgment in New York, you have a requirement to file a lawsuit on the judgment before you can domesticate it in the New York.
Service of Process
The papers used to begin the lawsuit for debt collection cases require service on the party you are suing. Frequently, those papers are a summons and complaint.
In New Jersey's lower courts, the court handles service of the summons and complaint. By contrast, in New York – except for small claims court – it is the party that files the summons and complaint. Consequently, you, the creditor, must arrange for service.
Execution on a Debt Collection Judgment
New Jersey and New York have different means to execute and enforce a judgment. For one thing, before you can execute on a judgment in New Jersey, you must first make a motion to the court for a writ of execution. Once a judge signs an order, you can forward the signed order to the sheriff. But once again, you need permission from a judge before the sheriff can levy on any of the judgment debtor's assets.
By contrast, in New York, you do not need permission from the court before you are able to enforce a judgment. Your debt collection attorney is able to restrain bank accounts, issue executions to the sheriff or marshal, restrain monies owed from third parties and more without requiring a judge's order or any permission from the court.
The ins and outs of successful debt collection require careful navigation, just like crossing the Hudson River. At FFGN, we're here to guide you through all your collection concerns. Please contact us to get your questions answered by email or call (212) 686-0100.