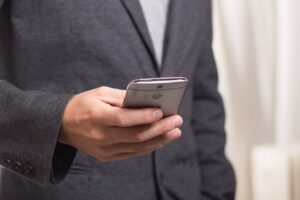 Once the Check Clearing for the 21st Century Act (Check 21) came into effect in 2004, banks could handle checks electronically thereby increasing the speed of check processing and reducing the costs of handling and transferring physical checks. Today, most financial institutions offer a mobile deposit option that lets people deposit checks through an app on their phones. While this is convenient for depositors, it also allows for fraudulent activity such as double debiting checks.
Double debiting occurs when a person deposits a check virtually through their bank's app and in-person at a check-cashing store. When the check casher puts the check into their account and presents the check image to the check makers' bank for payment, the check won't clear because it was already paid in the first mobile deposit. This action also breaches the warranty the person made when depositing the check through their phone.
Under Check 21, mobile-deposited checks can be charged back to the depositor's bank under a breach of warranty claim up to one year from the date the damaged party discovers the loss. This means the check casher would have a claim against the depositor's bank for breach of warranty for the amount of the check.
In some cases, the person who wrote the check might be liable. Let's say you issue a check to a hypothetical person named John Jackson. John Jackson deposits the check through his bank's mobile app, then gives you back the check and asks if you can reissue it to "John Jackson or Jane Jackson," which you do. You don't think to put a stop on the first check because you have the physical check, then John Jackson deposits the second check. In this scenario, you could be liable even though you weren't the one double depositing the checks. Since John Jackson's bank is a holder in due course, it does not have any obligation to return the funds from either check.
In order to prevent the type of loss described above, you should always place a stop on checks returned for a replacement. You may also choose to have the payee sign an affidavit stating that the first check was not deposited remotely before issuing a new check. However, if a third-party bank is damaged by the first check being stopped, you will still be liable for any damages incurred by that third-party bank.
For more business best practices, check out our other blog posts. If you need help with a debt collection matter, contact FFGN for a consultation. We have the experience that pays.