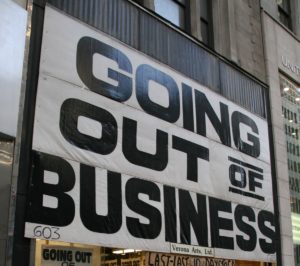 It's hard to know when to stop doing business with a non-paying client and start enforcing your rights to payment. Failure to make the decision can put you out of business.
Smart credit policies protect you from doing business with those least likely to pay. And smart collection policy designs maximize recovery on receivables. But these policies are only effective if you use them.
Failure to follow their credit and collection policies put one of my clients out of business.
My client was serving New York's booming construction trade. With that growth came opportunity and challenges. While there were a lot of opportunities, the truth is that the construction industry in New York is a closed community. Industry insiders know the personalities and business styles of owners and developers.
A contractor or supplier can easily fall victim to noncompliance and not receive payment. Why? Because of unspoken policies and procedures as to when and how, if at all, there is payment of the balance due on a contract or retainage. The closed construction community carefully observes the unspoken rules.
New York's construction industry is like no other.
New York's construction industry is like no other. Many building owners and developers make it known that they will punish a party who pursues them for payment. When they quietly blacklist the contractor, projects become scarce or nonexistent.
Rationally we know that a nonpaying client is a deadbeat. And the building owner or developer is not only a deadbeat, but a deadbeat trying to shame and punish the party that wants to enforce their rights to fair payment.
This scenario presents itself daily to many service professionals, subcontractors and suppliers. Unfortunately, they may fear the results of taking a stand, that enforcing their rights to payment will ensure no offers of additional work from this client – or potentially others.
And so it was for my client, a thriving business that produced about $60 million in revenue. Management put in place was familiar with the construction industry's nuances. He knew the players and the unspoken politics. Though reluctant, the CFO placed accounts for collection once they were 180 – 270 days out. Nothing more would be authorized passed a demand.
Fear of pursuing their right to payment effectively put them out of business.
The CFO felt that filing a lien or bringing a civil suit to force payment was out of the question. As unpaid receivables increased, cash flow came to a halt. Eventually, they could not meet payroll. The client's fear of pursuing their right to payment effectively put them out of business.
Understanding your rights to payment and the folly of continuing to do business with people who do not pay their bills should dictate your actions, not fear.
To learn more or to engage the services of an effective yet discreet New York Collections Attorney, get in touch with us and let's exercise your rights to payment before it causes your company to have to shutter its doors.